55,042 total views, 5 views today
++++++++++++++++++++++++++++++++++++++++++++++++++++
Super Party of Fast Food
++++++++++++++++++++++++++++++++++++++++++++++++++++
Food at the 1904 St. Louis World's Fair 
Prior to 1904 – It was frowned upon to eat or drink while in a public space (i.e. Streets, sidewalks and Parks) The mile long Pike Amusement district (i.e.the midway of the fair) changed that with Cotton Candy, Hot Dogs, Hamburgers, Popcorn, and Cold Carbonated Drinks being consumed in a festive atmosphere and exposure to 20 million happy people.
It was the 1904 St. Louis (Louisiana Purchase Exposition) World's Fair, where the country was introduced to the most amazing inventions and new foods for the time. Imagine 80 snack concession stands, 35 fashionable restaurants, and 20,000,000 visitors.(i.e 1/4 of the US population at the time)   It was a turning point for American food and the birth of Fast Food with a simple, easy style.  Communications and transportation were in their infancy at this time in history. For many, it was the experience of a lifetime.
There were over 1500 buildings spread out over 1300 acres (i.e. 31 times the size of the Magic Kingdom in Florida) and required back-breaking work from over 10,000 laborers. Lasting for seven months, the event delighted guests with displays of the latest in technology, fine art, manufacturing, science, and education.  Exhibits from 50 foreign countries and 43 of the 45 states packed the buildings and grounds.
The St. Louis World Fair gave people an opportunity to experience what was happening in other parts of the United States and the world.  Foods at that time were usually produced and shared within compact local areas.  This fair opened up the world, presented new technology, inventive ideas, new food experiences, new business opportunities, and literally changed the nation.
Visitors returned to their homes full of exciting stories about their experiences. "Guess what I had at the Fair," conversation spread the word. There was no stopping the demand for these products and new inventions. Everything was changing.
++++++++++++++++++++++++++++++++++++++++++++++++++++
Ice Cream Cone Makes Debut at 1904 St. Louis Fair
For people at that time, eating while walking up and down streets was regarded as bad-manners and impolite. But at the Fair, it was a "grab and go" food and everyone loved it. In hand foods led the way with ice cream being served in a waffle cone.
There were many stories about the cone's use. The most popular legend has it that an ice cream vendor ran out of dishes for his ice cream and asked a pastry maker to roll up some waffles that he could use for his ice cream. Other vendors quickly followed. It is impossible to prove these events, but most experts agree that this probably happened at the 1904 World's Fair. After the fair, ice cream cones became a popular dessert and the crunchy cone was perfect as a carry-along while spreading across the nation and probably the world.
Butterscotch Roasted Apple Ice Cream in a Waffle Cone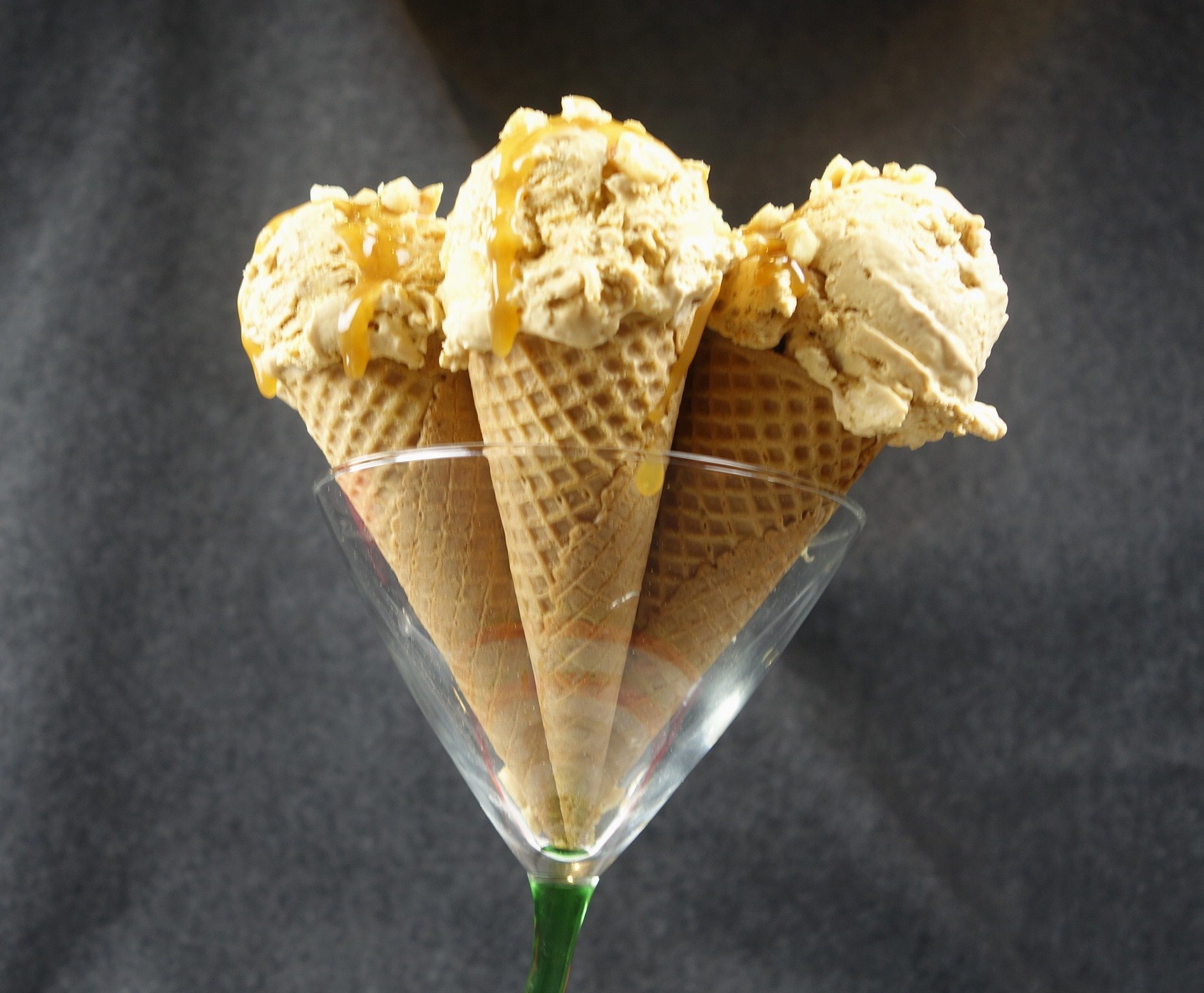 About this Recipe: The interesting butterscotch flavor is created by the use of apples with caramelized condensed milk.  Drizzle with additional butterscotch or caramel topping as desired. The salted peanuts enhance the sweet flavor with a salty edge. This ice cream is very rich and pairs well with baked apple pie. The best part is that it uses a regular mixer and doesn't need a special ice cream maker for its preparation
++++++++++++++++++++++++++++++++++++++++++++++++++++
Hamburger as a Sandwich Makes Debut at 1904    St. Louis World's Fair
Ground meat was certainly cooked in patties before the 1904 Fair. There are several stories about people putting them between two slices of bread. In fact the name Hamburger most likely originated from a connection to Germany and the city of Hamburg.
However, the burger really became a popular sandwich at the 1904 Fair. One story is that Fletcher Davis cooked some raw hamburger steak on a flat top, placed it between two slices of toast, and garnished it with a big onion slice. He sold this sandwich at his concession stand on the Pike.
Look around now and you can see that burgers are here to stay.
The Convertible Burger
About the Recipe: This is a neat burger to serve as all the goodies are tucked inside the toasty bun.  It uses a smaller amount of meat and bread, for a healthier burger size. It converts easily into your favorite flavors. The old burger just turned new.  It's so Convertible!
++++++++++++++++++++++++++++++++++++++++++++++++++++
Connecticut's Official State Building at 1904  St. Louis World's Fair
The building was patterned after the 1820 Charles Sigourney mansion in Hartford, but none of the parts were used.  The building was filled with period woodwork from the 1760 Hubbard Slater mansion in Norwich and parts were also used from other buildings. It was designed to accommodate 12 to 15 residents.
Placed back from the street, there were circular walks and flower gardens in front. It was about 80 x 88 feet and erected at a cost of 31,000 dollars. Inside the home, there was a chair that came over from the Mayflower and another one that George Washington used. Designs of silk tapestry hung on the first floor and upper hall. However, one of the feature items was the reception hall frame carved from the trunk of the original Charter Oak. It was one of the best-built buildings at the Exposition.
The mansion was designed and built to be moved after the World's Fair. It was purchase at auction, dismantled and moved to Lafayette, Indiana, immediately after the Fair by Mr. and Mrs. William Potter and became their personal residence. There are only 15 known buildings surviving from the Fair, and the Connecticut House/Haan Mansion is most true to its original design and purpose of the 13 buildings removed from the grounds.
+++++++++++++++++++++++++++++++++++++++++++++++++++++
Haan Museum of Indiana Art
The mansion has three above ground floors and a full basement totaling 15,000 square feet. It also includes seven fireplaces and 4 1/2 baths.
For More Information See:
http://atthefair.homestead.com/States/Connecticut.html
http://haanmuseum.org/Museum.aspx
For museum information and tours see:
http://haanmuseum.org/ToursAndEvents.aspx
When we visited the Haan Museum, it was decorated for the holidays with Christmas trees in almost every room. We felt very fortunate to get to chat with Ellie Haan cofounder of the Museum, whose family lived in the residence for 31 years. She showed us some of the priceless items that actually were at the St. Louis Exposition and agreed to share this information with all of you.
++++++++++++++++++++++++++++++++++++++++++++++++++++
A Turning Point for American Foods
'+++++++++++++++++++++++++++++++++++++++++++++++++++++
Marbleized Puffy Rice 'n Peanut Butter Squares
Puffed Rice is Born – Alexander Anderson, a University assistant botany professor and researcher, discovered how to 'pop' starch foods with high pressure and steam. He went on to invent a "puffing cannon." He used this to enhance starch materials and enhance their nutritive value. In 1904, Quaker Oats Company – introduced the cereal to the mass public by shooting Puffed Rice from cannons at the World's Fair
Also, at the 1904 World Fair, C. H Sumner introduced peanut butter to the fair goers. He sold 705.11 dollars of this treat at his concession stand. After this event, ;the demand for soft or crunchy peanut butter spread across the nation and even developed a loving relationship with jelly

About the Recipe:  Crispy rice cereal dessert squares are popular with both young and old.  Sweet butter enhanced melted marshmallows bind the crunchy plain and chocolate rice cereal that's flavored with peanut butter.  What better combo could one have!  Chocolate crunch and peanut butter makes a great sweet snack
++++++++++++++++++++++++++++++++++++++++++++++++++++
Sparkling Polar Puffs
About the Recipe: Polar Puff cookies taste like white chocolate vanilla sugar cookies.  The cereal creates a crispy texture and small snowball puffs within the cookies.  These are a perfect addition to your winter holiday menu.
++++++++++++++++++++++++++++++++++++++++++++++++++++
Deli Cold Cut Salad with Honey Mustard Dressing
French's Creamy Mustard is Introduced– It's hard to realize that French's Mustard has been an ingredient that most of us have tucked in our refrigerator, just waiting to add that great flavor to our favorite dish. This classic yellow mustard, invented in 1904, was introduced by George and Francis French at the St. Louis World's Fair. With lots of hot dogs there, "it was love at first bite."
About the Recipe: The salad dressing can be prepared ahead of time, covered and stored in the refrigerator. This is a salad main dish that can be mixed with your favorite salad ingredients. It is light, refreshing, and so delicious.
++++++++++++++++++++++++++++++++++++++++++++++++++++
Sonoran Hot Dogos
Hot Dogs are Married to a Bun – It's documented in historical records that sausages using various meats played an important role in German food in the 1600's. In fact, in the 1860's Charles Feltman, a German butcher, sold a hot dog type sandwich on the streets of New York City, accompanied with milk, rolls, and sauerkraut.
However, one story tells us that the hot dog was popularized at the 1904 Fair when Antoine put some of his sausages on a long split bun that fit around the sausages. No matter who or how it came to be, it has been popular ever since.
About the Recipe: The hot dog in a bun became popular at the 1904 World Fair but it's twice as popular now with this spicy ingredient twist.  Popular in the Southwest, the crusty bun is jammed packed with refried beans, spicy peppers, and Mexican blended cheeses that adorn the bacon wrapped beef frank, topped with salsa verde, mustard, and zigzags of crema. The best just became better!
++++++++++++++++++++++++++++++++++++++++++++++++++++
Dr. Pepper Meatballs
Dr Pepper is Introduced to the Nation – It is said that in 1855, a pharmacist Charles Alderton, wanted to make a fruit drink. He used about 23 ingredients for his beverage. The owner of the store, W.B. Morrison named it Dr. Pepper. It was so popular that they needed to increase their supply. After consulting with Robert S. Lazenby, the owner of the Circle "A" Ginger Ale Company in Waco, Texas, it was decided that Morrison and Lazenby would form a company that become Dr Pepper.
It's interesting to note that Dr Pepper Company is the oldest manufacturer of soft drink concentrates and syrups in the United States. The company introduced Dr. Pepper in 1904 at the World's Fair to 20 million people and it became a national brand.
About the Recipe:  In this inspired recipe, we added sriracha chili sauce for a spicy flavored meatball and sauce. The recipe is great for serving as an appetizer or even as a main course.  The sauce could also be used with shredded pork or chicken for delicious sandwiches
To Prepare as a Main Course: Double the sauce ingredients.  We served this with sautéed onions and mushrooms and also prepared spaghetti squash, which was served with the additional sauce
++++++++++++++++++++++++++++++++++++++++++++++++++++
Spiced Tea Ice Cubes
Ice Tea is Introduced to the Masses during a Summer Heat Wave – Iced Tea wasn't a new idea and even the early newspapers had stories that showed it being served at Confederate veteran parties and dining groups. It was also served at the 1904 Fair.
An interesting story was retold about an Englishman, Richard Blechynden, who had trouble selling his hot tea on this sweltering day. With a large ice plant operating at the fair, he decided to add ice to the tea and the popularity of this cool drink made it a real American classic, especially in the deep south
About the Recipe: It's time to spice up your life!  Plain ice cubes water down drinks. To enhance the flavor of your favorite beverage, add spiced ice tea cubes.  While keeping your drink chilled, it adds a spicy sweet edge and refreshing fruit tea flavors.
++++++++++++++++++++++++++++++++++++++++++++++++++++
Fork and Finger Club Sandwiches
Club Sandwiches are a Popular Item at the Fair – Since this sandwich was served at various resorts and country clubs, it was tagged with this name. We even found that a recipe for the sandwich was listed in the 1903 Good Housekeeping Everyday Cook Book.
There is no doubt that the 1904 St. Louis Exposition helped to popularize this sandwich. Four different restaurants served some type of club sandwich. It is also said that a St. Louis restaurateur Tony Faust created the club sandwich on the Pike in 1904. It seemed that everyone loved the new high styled sandwich.
About the Recipe: Club sandwiches are still popular fair.  This sandwich is perfect for breakfast as well as for brunch.  Thick waffles will produce four generous servings.  Ham, smoked turkey, mild cheese, and bacon add a hearty taste to the peppers, tomatoes, and lettuce.  It's fun and delicious to serve maple syrup for some sandwich dipping.  Use a fork or your fingers to enjoy this special waffle club sandwich.
++++++++++++++++++++++++++++++++++++++++++++++++++++
Honey Sweet 'n Soft Gingerbread Cookies
Susan Tyson Rorer Teaches the Masses – 75 books and pamphlets were authored by Susan Tyson Rorer and she headed a Model Restaurant at the Fair that seated 1,200 people. Her World's Fair Souvenir Cook Book, sold for 50 cents, and was written to point out the simple and easy way to cook. It's written in simple paragraph form without a list of ingredients, exact directions, or baking temperatures. Her culinary efforts changed the life and behavior of home cooks.
For More Information See:
https://atthefair.homestead.com/Misc/MrsRorercookbook.html
About the Recipe: The 1904 World Fair Cookbook featured several gingerbread favorites, crispy and soft.  This simple gingerbread cookie has a soft cake-like texture with mild holiday gingerbread flavor. A lemon almond glaze decorates the top, adding a sweet note. For a holiday garnish, add some colorful sprinkles.
Link to Mrs ST Rorer's World's Fair Cook Book
++++++++++++++++++++++++++++++++++++++++++++++++++++
Popping Popcorn – Your Way
Popcorn is Popularized at the Fair – St. Louis local- C.A. Windmueller had a staff of 100 and many booths to sell his popcorn. To meet the demand, he built a 10,000 dollar popcorn factory on the Pike at the fair.
About the Recipe:  Great popcorn is a blank canvas that you can create into your favorite snacking flavor bomb.  The only problem is that you will probably eat up the entire bowl.  That's OK – it's only a small batch, gluten free, and non GMO.
++++++++++++++++++++++++++++++++++++++++++++++++++++
Cotton Candy Mini Cake Cookies
Cotton Candy is Introduced to the Masses – Around 1897, Nashville candy makers William Morrison and John C. Wharton patented an electric cotton candy machine, which would spin and melt sugar into a delicious candy producing large amounts very quickly.
They traveled to the 1904 World Fair and sold 68,655 boxes of their unique treat to fascinated visitors. At 25 cents a box, they cleared $17,163.75.
Even today, cotton candy is the exciting sweet treat sold at various public events and even used in recipes at home.
About the Recipe: It's time to celebrate! These cake-like vanilla cookies are topped with a coating of pink or blue sugar. To add a festive party touch, each cookie is decorated with a puff of colorful cotton candy before serving. What fun!  We are sure glad that the 1904 World Fair introduced everyone to an easy way to make cotton candy.
++++++++++++++++++++++++++++++++++++++++++++++++++++
Just For Fun
++++++++++++++++++++++++++++++++++++++++++++++++++++
Hot Cocoa Poured into Cotton Candy
Fill your favorite cup with colorful cotton candy. Prepare some hot cocoa.
Pour it into the cup and see what happens…………it's holiday Magic…
+++++++++++++++++++++++++++++++++++++++++++++++++++++
Happy Holidays at the Haan Museum
Take your family to visit the "Haan Museum of Indiana Art" in Lafayette, Indiana and experience a wonderful afternoon.
++++++++++++++++++++++++++++++++++++++++++++++++++++
Santa Interview from the North Pole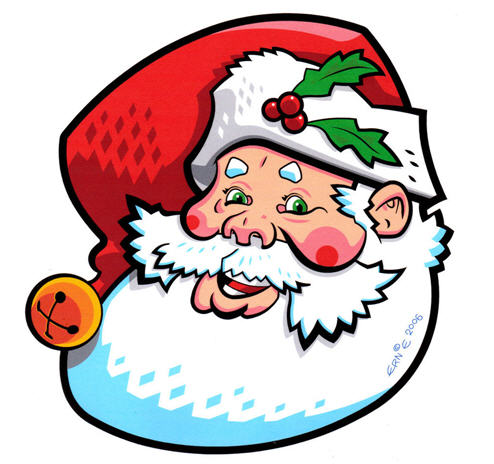 ++++++++++++++++++++++++++++++++++++++++++++++++++++
 Research News
……………………Be in the Know!
Did You Know That Exercise Improves Our Memories and Thinking Skills?
Should You Use Your Lap Top for School Lectures or Business Meetings?
Don't Eat Raw Flour or Raw Products Made from Flour?
Do You Ruminate Over Things That Cause You to Worry or Be Fearful?
Did You Know That Space Travel Can Change Your Brain?

Do You Think That Bumble Bees Are Smart? 
+++++++++++++++++++++++++++++++++++++++++++++++++++++
Internet Radio Podcast
Tune into the Creating Calm Network Radio broadcast of Gloria Piantek- Food for Your Body, Mind, and Spirit episode airing at 3:00 PM ET – Sunday- Dec 17th  or "On Demand" at your convenience after the initial airing.

Log In Dec. 17th  Radio Program
+++++++++++++++++++++++++++++++++++++++++++++++++++++
Each Month we invite you to:
Hear from experts about various trending topics.
Learn how to make delicious recipes
Product Shout Out: Products you may want to try
Research: -Be in the Know. – New research on health, learning, and creativity.
Listen to our monthly 3:ooPM ET on 3rd Sunday of every month internet broadcasts from your computer as well as "On Demand" for our previous broadcasts.
Share your ideas, suggestions, and recipes with us
Gloria Goodtaste++
**That is the name some of my friends call me. My real name is Gloria Piantek.                 +++++++++++++++++++++++++++++++++++++++++++++++++++++
 Click on this Square Below to Register for a Free Email Update!