1,182 total views, 1 views today
'
'
,
,
,
,
,
,
'
When talking to Charlie about the foods, he admitted that he liked to travel light so anything that was carried along would need to be disposable, easy to use, and of course delicious.  He did admit that one of his favorites was his Feast in a Fist, which was a hot dog with BBQ sauce and he mentioned topping it with potato salad.  I really liked that idea and knew how hard it would be to carry along a container of potato salad.  It always causes some dismay.  So I figured out a way to make it quick and easy.
+++++++++++++++++++++++++++++++++++++++++++++++++++++++++++++++
Feast in a Fist – Grab 'n Go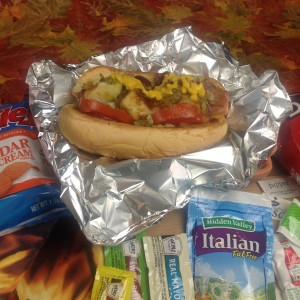 Having the right ingredients that would be light enough to carry along led me to collect those little packages that accompany sandwiches and salads as the local deli and snack shop.  Small packages of mustard, ketchup, pickle relish, and Italian dressing were all I needed.  Of course, there are many other little packets you might want to use.
Now –  microwave a few red potatoes and pack them up with your packets.  When you prepare your hot dog, cut up the potato; toss it with some that Italian dressing and pickle relish.  Then mount it right on top of that hot dog.  A touch of mustard and ketchup and you're good to go.      Your whole meal is in your hand.  An instant picnic!
,pdf for Recipe – Feast in a Fist – Grab 'n Go 
++++++++++++++++++++++++++++++++++++++++++++++++++++++++++++++
Presto Pocket Pies – Grab 'n Go
Pocket Pies are the style  — the crust is able to travel with a hint of delicious filling inside.  I prepared a few apple filled pockets with a touch of cinnamon and nutmeg.  If you roll them in sugar and more cinnamon, you're sure to add some spice sweetness to your trip.  Pocket pies are great because you can just carry them around for that anytime snack.
'
'
'
'
,pdf for Recipe of Presto Pocket Apple Pies
++++++++++++++++++++++++++++++++++++++++++++++++++++++++++++++++
Black Forest Cherry Berry Brittle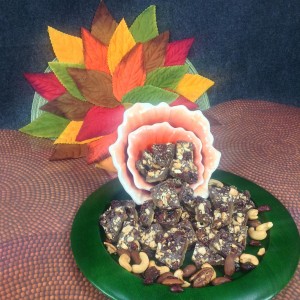 If you are hankering for one tiny sweet nibble, bake up a batch of Black Forest Cherry Berry Nut Brittke.  Since it starts with already baked sea salt crackers, it is a snap to make.  It only takes about  20 minutes from start to finish.  The bonus is that you get about 2-1/2 dozen snacks that are loaded with brown sugar flavor, covered with rich dark chocolate, and topped with "what you might expect" in a great forest, crunchy nuts, berries, and cherries.  Can't beat that one, quick and delicious.
'
'pdf for Recipe – Black Forest Cherry Berry Brittle
+++++++++++++++++++++++++++++++++++++++++++++++++++++++++++++++
Hideaway Hoagies – Grab ' n Go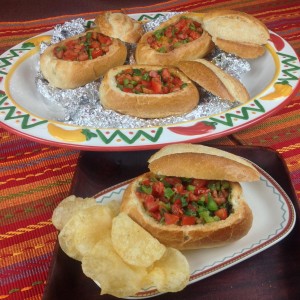 Okay, how about something to take along for a tailgate special.  Do we have a super suggestion for that one:
How about surprising your guests with a super sandwich?  Hideaway Hoagies…
All your preparation happens below you leave so you can really enjoy all the fun.
Grab those Hoagie Buns, remove a slice from the top and remove some of that extra bread inside.  (save it for another use)  Give it a smear of garlic butter.  Toss some mini smoky dogs with BBQ sauce, tuck some of them inside each bun.  Top with a thin slice of sharp cheddar cheese or pepper jack, and spoon chopped tomatoes, sweet peppers, chives, and cilantro over the top.  Wrap up the sandwiches in foil.  Yep – all done.
When you arrive at the tailgate party, place them on the grill for 8 minutes.  When you open them up, the feast begins……….pure yummy for that tummy.
'pdf for Recipe – Hideaway Hoagies, – Grab 'n Go Food
+++++++++++++++++++++++++++++++++++++++++++++++++++++++++++++
Quicky Sticky European Cake Cup – Grab 'n Go Dessert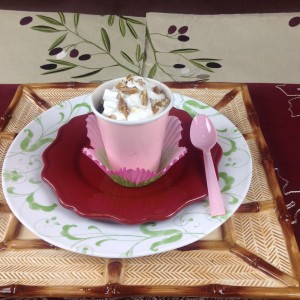 PAPER CUP IT –BE A GOURMET IN A MINUTE  –
MAKE QUICKIE STICKY EUROPEAN CAKE CUPS
One of the most popular flavors for a dessert is Nutella.  If I said you could make a gourmet dessert in 5 minutes, I know you wouldn't believe me, but yes, it is true.  One bowl, 3 Tbsp. self-rising flour, 2 tsp. sugar, 2 Tablespoons nutella, 1 Tbsp. beaten egg; 1 Tbsp. chopped pecans; 2 Tbsp. milk – mix until smooth.  Place in one 8 oz. paper cup evenly; sprinkle top with 1-1/2 Tbsp. mini chocolate chips.  Microwave high power 1 minute.  Let cool 1 minute.  Spoon 1/2 Tablespoon orange fig spread into center of cake; serve with a dollop of whipped cream.      Oh – so classy.
pdf for Recipe Quicky Sticky European Cake Cup 
++++++++++++++++++++++++++++++++++++++++++++++++++++++++++++++
Farmhouse Restaurant at Fair Oaks Dairy
'
'
'
'
'
'
'
'
If you are traveling down Interstate 65 South of Merrillville Indiana, consider stopping at the Farmhouse Restaurant which is part of Fair Oaks Dairy Adventure Education Exhibit at exit 220. We found the food to be yummy and the service to be very friendly. Whether you are on a motorcycle or in a car, the stop is worthwhile.
Excerpt from their Farmhouse Website : Our Farm to Your Plate in Our House – what does that mean? Our style of Food is known as – American Farm Cuisine. Menu items that you know! Nothing intimidating here – just great, fresh dishes that are created from ingredients that are grown and harvested on Our Farm and other farms that are located within our region. The Chefs and Farmers take special care to raise, produce and present all our food here at Fair Oaks Farms. We are proud of our work and want you to see what we do and how we do it.  Two Examples are shown below.
++++++++++++++++++++++++++++++++++++++++++++++++++++++++++++++++
Golden Pumpkin Pie Spiced Sweet Potato Crisps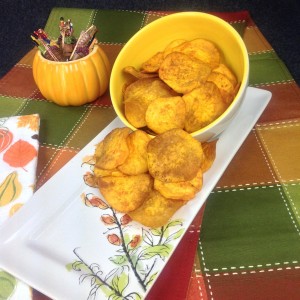 Did you ever think how delicious sweet potato chips would be with a touch of pumpkin pie spice? We couldn't buy them so we headed to the kitchen. We started by using some of the suggested internet techniques. We soaked some of the chips in cold water and gave others a hot water bath. Some were fried au natural while others were coated with cornstarch.  We tried different temperatures, time limits, and group sizes. After three days of chip tripping, our final results surprised us.
Finally, the recipe below did give us crisp chips that stood the test of waiting until we served supper. They didn't burn and kept a golden color. If you want to give them a try, you can start with this recipe for:
pdf for Recipe Golden Pumpkin Pie Spiced Sweet Potato Crisps
++++++++++++++++++++++++++++++++++++++++++++++++++++++++++++++++
Fall Season – Fresh Apple Filled Desserts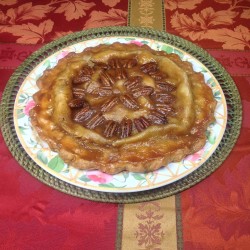 '
'
'
'
'
APPLE ORCHARD:- Sweet yet tart, smooth yet crisp, the crunch of that first fresh apple from the tree reminds you about all your wonderful apple memories.  As our car entered the Harvest Festival, we could see everyone laughing and enjoying the large baskets of apples they collected.  There is something so special about picking those fresh fruits off the tree, carrying them home, and then tasting them in your favorite dessert, applesauce, pies, crisps, dumplings, cobblers, crèmes……..They're all delicious.
I included several apple recipes this month, one for Presto Pocket Pies and the other for Flipped English Toffee Apple Pie that you turn upside down after baking.  Don't worry if it isn't perfect, the tasty results will be delicious.
pdf for Recipe for Flipped English Toffee Apple Pie
pdf for Additional Appke Information
+++++++++++++++++++++++++++++++++++++++++++++++++++++++++++++
Wing Dingers – Chicken Wing Appetizer
Campbell's Soup Makes Good Food Contest;
Are you looking for a grand prize appetizer recipe to serve at your next tailgate or patio picnic?  Look no further.  Tony DeSantis from the great DeSantis cooking family won $10,000 for this delicious recipe Wing Dingers in Campbell's Soup Makes Good Food Contest. His seasoned chicken wings were smothered with sweet onion soup flavor and glazed with a picante molasses sauce.  For a shot of extra zing, add as much sriracha or hot pepper sauce as you want.  It starts your party off with a spicy bang.
Thanks so much to the DeSantis family for sharing this delicious recipe with all of us.
pdf for Recipe Wing Dingers – Chicken Wings
++++++++++++++++++++++++++++++++++++++++++++++++++++++++++++
 Lozanski  – Polish Talk Radio Award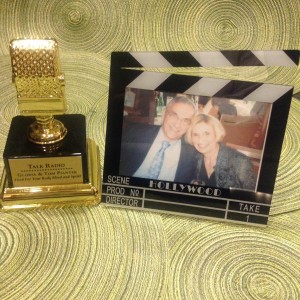 I can't begin to tell you how honored and thrilled we were to receive this Talk Radio award from the Lozanski Division of the Polish Broadcaster's Association.  What a surprise!  Our programs try to reflect the wonderful foods and spirit of the ethic communities around the world. We were pleased to be able to report on Brasky's Kolacky that traveled to the table of Pope John Paul.  We have received so many beautiful responses from people all over the world.  Again – please thank all the people at the Association for this tremendous award.