2,858 total views, 1 views today
DO DREAMS REALLY COME TRUE?
++++++++++++++++++++++++++++++++++++++++++++++++++++++++
47th Pillsbury Bake-Off – Nashville, TN 
Don't you just love hearing those "Behind the Scene" stories and taking a peek into those exciting public events.  We were very fortunate because we had that wonderful opportunity this month, a trip to Pillsbury's Bake-Off, not to cook but to cheer. Dreams are special places that we keep hidden in our hearts.  My son was very small when I won trips to bake in Pillsbury's Bake-Off, but everyone remembers how this five year old declaring that someday he would march in Pillsbury's Grand March  with Mr. Pillsbury and bake his recipe.  But like many drams that we imagine, they linger in the dusty corners of our mind because they could never happen. That is where Tom's dream lived. The Pillsbury contest rules stated that family members of three time past finalists were disqualified from entering the Contest. That rule eliminated all of our family members for about last thirty years. Time passed in Tom's life, and he found himself having fun baking and cooking for his own family and neighbors. Then a friend wrote to him and told him that Pillsbury was changing that rule, which would allow him to enter the contest.  Of course, he never even imagined that he could become a finalist but after creating a surprise tamale dish for his dad, he decided to submit it to the Contest.
'
'
'
'
'
'
I guess I'll always remember that telephone call.  "Hey Mom, guess what?  I'm a finalist in Pillsbury's Contest" "Oh sure!" I replied, Ho-Hoo-Ho!" sounding very much like a Pillsbury dough boy myself. "No really, Mom.  I'm not kidding." After 10 seconds of complete silence. I screamed, "I can't believe it!" as small tears of joy trickled their way down my cheeks. It was really going to happen.  Of course, he could win an additional prize, but the real prize was that Grand March.
'
'
'
'
'
'
But Tom wasn't alone with this type of dream.  He was accompanied by 99 other finalists from all over the United States.  As each finalist passed me by, I thought about how much this experience meant to each one of them.  Next to me stood a family of about four or five people, holding signs and so full of enthusiasm for their family member that they could hardly contain their cheers of support.  I soon learned that all those "over the top" shouts were for Marcia Jacobovitz from New Jersey.  She was making Chocolate-in-the-Middle Biscotti, a gluten free recipe,  and learned to cook through trial and error. After talking to her family, I learned that she loved to tinker with recipes and make them her way.  The family members told me that she made her recipe many times, trying to get just the right amount of puffy filling inside. Marsha has entered every Bake-Off since 1964, and here she was making her dream come true. RECIPES FROM PILLSBURY'S 47TH BAKE-OFF – DREAM MAKERS AND BAKERS
All 100 finalists have these wonderful, heart-warming stories, dreams of something special  The fun of competing is when you use or put your own spin on a recipe, it becomes part of your life. It's a heaven-sent wonderful sharing.  So if you have one of your family recipes tucked away, dust it off and send it on its way to a contest or two.  You never know when that dream will come true.
'
'
'Links below to Recipes
'Macaroon-Peanut Butter Chocolate Tartlets…………..Brenda Watts
'Fiesta Baked Tamales…………………………………Tom Piantek '
Chocolate-in-the-Middle Biscotti…………………….. Marcia Jacobovitz
'Peppered Bacon-Wrapped Turkey Pub Sandwiches…… Betty Staufenbiel '
 Link to 47th Pillsbury Contest $1 Million Dollar Prize
+++++++++++++++++++++++++++++++++++++++++++++++++++++++++
Did You Find This at your Local Farmer's Market
Brown Butter Brussel Sprouts with Apples
'
'
'
Brussel sprouts – and so delicious from their stalk
You find them in your produce department, looking like a real kitchen challenge, but these veggies are really fun to prepare.  After getting up your courage to purchase a stalk filled with tiny cabbage-like blossoms, you will find that it was one of the best nutritious vegetables and so easy to prepare. It is wise to remember that steaming and stir frying them retains their high level of sulforaphane. With this in mind, the attached recipe uses only minimal cooking to prepare one of the most beautiful side dishes that you can serve during the holidays.  Tossing in some apple slices, cranberries, and toasted walnuts adds a very festive holiday touch and light sweetness to the dish. Check out the step-by-step link and suggestions for cutting the sprouts. If preparing dishes with Brussel Sprouts, please be aware that they contain vitamin K, a blood clotting factor, which may not be suitable for a heart patients.
Link to Cutting Up Brussel Sprouts'
Better Homes and Gardens Brussel Sprouts Recipe
'

Url to Video Clip for Brown Butter Brussel Sprouts with Apples                          '
+++++++++++++++++++++++++++++++++++++++++++++++++++++++++++
Family & Friends Sharing Recipes
'
'
'
"
'
Pat Short asked us to pass along this recipe to kids or the "young at heart" adults.  To make one you will need: 2 Oreo Cookies, 1 small peanut butter cup, 10 corn candies, and 1 round melt ball.  Add those eyes with some food coloring or frosting mix.  Pat had all her friends make one at her recent party.  Oh what fun.
Link for Recipe for Oreo Turkeys
++++++++++++++++++++++++++++++++++++++++++++++++++++++++++++++
Old Fashioned Fruit Cake
About Fruitcakes: Fruitcakes, a fully loaded holiday cake brimming with heavy candied fruits and nuts, originally appeared to celebrate the beginning of the next harvest.   It served as a symbol that the next year would bring that successful harvest. When this recipe appeared in the 1800's, they were considered an indulgent treat and very popular.  It also was a cake used for many wedding guests, thus causing the custom of putting a slice under one's pillow to dream about the person they would marry. Kay explained that her entire family loved this delicious cake, and she would often freeze small loaves to enjoy during the holiday.  While you can stir in loads of your favorite candied fruits and nuts, Kay's family just loved its simple style with only a few add-ins.  When you make this cake, have fun with it and add all your favorites. Why is this cake so special?  Because you can use the basic recipe to create your own traditional favorite.  Thanks Kay for sharing this treasure with us.
pdf of Recipe for Old Fashioned Fruit Cake
                ''

Url to Video Clip of Heritage Fruit Cake                 '
+++++++++++++++++++++++++++++++++++++++++++++++++++++++++
Oliver Winery – Bloomington, IN
'
'
'
'
'
'
Oliver Winery
Cool autumn breezes, warm sunshine, and twisting vines with vibrant leaves appeared like magic lining the Vineyard.  Oliver's Winery produces some of the most approachable and satisfying wines in the Midwest.  They produce about a million gallons of wine and about 5 million bottles each year and are the largest winery east of the Mississippi.  Their winemaking is simple nature process capturing the flavor from their high quality grapes, capturing the essence of the fruit.
'
'
'
'
'
'
'
 They offer an Oliver Winery experience, which includes weekend cellar tours, daily wine tastings, and an assortment of gourmet foods plus wines that can be purchased. For $4.67, you can select and taste about 8 different wines and munch on some crisp crackers.  We lingered at the tasting bar, enjoying all the different types of wine and even sharing sips.  Between giggles and toasting, we found many of the tastings to be fresh flavors, beautifully balanced, and zesty with vibrant color.
'
'
'
'
'
'
'
After touring their production facility and cellar, I was very impressed with their knowledgeable staff who shared that their wines won over 35 medals over the past 3 years.  She also provided some recipes that I was eager to try in my own kitchen. Oliver also offers a downtown wine bar in Bloomington where you can sit down and enjoy gourmet cheese and charcuterie plates.  We found the food to have that special quality one would expect in a warm Bistro setting.  Even the pressed coffee left us eager to plan another visit.
After purchasing a bottle of Classic Sangria, I was anxious to make some Black Bean & Mango Salsa.  The tropical flavors of the wine paired perfectly with Salsa and Whole Grain Tortilla Chips we served at a dinner party.  The fresh flavors were highlighted with the black beans and could easily be served with chicken, pork, or seafood. ' ' '
'pdf of Recipe for Black Bean and Mango Salsa 
++++++++++++++++++++++++++++++++++++++++++++++++++++++++++++
Ghyslain Artisan Chocolatier 
'
'
'
'
"
'
'
Ghyslain Chocolatier/Baker/Creator –  Artisan Center  Do you want to get something unique and beautiful for a special person as a holiday gift?  There are so many times I wondered though the stores or thumbed through catalogues trying to find that one perfect present.  Well – we finally found some holiday designed candies and pastries that are sure to please anyone.  Glancing through their catalogue or display case, you will find mousse pastries like Charlesmagne, Tiramisu, Sacher, and Gateau Aux Trois Chocolat.  If Cheesecake pastries are your favorites, you might try a Caramel Cheesecake or Key Lime.  Of course, they are individual serving sizes, topped with fashionable designs.  Add mini pastries, a medley of macaroons,  cup pastries, and tarts.  The Ghyslain's Signature candies are exquisite hand painted chocolates, each one a detailed work of art. The hand brushed color on his holiday chocolate evokes all the senses and the finest ingredients created with ganache filling, fresh fruit purees, and nuts that tell you "life is good."
'
'
'
'
'
'
Returning from Pillsbury Bake-Off, we stopped at his Market Street Bistro in Louisville and found the restaurant looking very much like a French Café.  Fresh baguettes and brioche bread were created into a multitude of sandwiches.  Quiches, crepes, and soups made selecting lunch a difficult task.  Of course, we enjoyed French mousse dessert and pressed coffee as we lingered, enjoying the experience.  We couldn't leave without carrying out some designed Christmas candy gifts and two gelato cones that accompanied us on our way home. Everything that we tasted was "over the top" delicious so we decided to drive out to his artisan center/factory to visit where Ghyslain , an artist with chocolate, creates these gourmet chocolates.  We weren't surprise when we discovered that he worked at some of the finest hotels and restaurants in North America and Europe.  Also he maintained the position of executive chef for the Quebec Delegation in New York and London.  How fortunate for the people in the Midwest, that he married an Indiana girl and started his chocolate boutique here.
'
'
'
'
'
'
'
'
I first met Ghyslain when he was kind enough to share  the secrets of preparing  an authentic French dinner.  The food was so delicious and prepared with the high quality of any five star restaurant.  I knew then that I needed to discover more about this magician with chocolate that could create anything magic into reality.
"
'
'
'
'
'
'
'
And everything tastes as good as it looks and sometimes even better.                                An over the top experience. I wish Union City, Louisville, or Richmond were much closer than 3 hours away.
'pdf link for Details of Ghyslain Desserts and Candies
Ghyslain Website for More Information
+++++++++++++++++++++++++++++++++++++++++++++++++++++++++
Turkey Leftover Extraordinaire!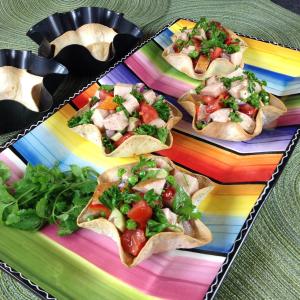 OH!  WHAT TO DO WITH THOSE LEFTOVERS
Most of us have all those traditional favorites that we prepare for Thanksgiving dinner like turkey, cranberries, stuffing, corn, vegetables, mashed and sweet potatoes and crunchy rolls.  But when the big day is over, we are probably looking at lots of leftovers to use for rewarms.
I thought that you might enjoy a new idea for that day after.  Woman's Day, Hellmann's and Best Foods Mayonnaise sponsored a contest years ago to discover favorite cooked turkey dishes.  A zesty turkey, lime salad with tortilla cups won the first prize spot and looked so impressive.  Having lots of cranberry sauce always left over in our house, I thought you might enjoy using it as a dressing in this salad, made with leftover turkey.  This dresses up that turkey in a brand new style.
 pdf of Recipe for Turkey Leftovers
++++++++++++++++++++++++++++++++++++++++++++++++++++++++