2,590 total views, 1 views today
+++++++++++++++++++++++++++++++++++++++++++++++++++++++++
April Fool's Day Recipes
 ++++++++++++++++++++++++++++++++++++++++++++++++++++++++
              April Fool – Curly "Worm"  Sandwich
On the left, these are what the "Worms" look like.  Enjoy April Fool's Day! Plan a super supper, Curly "Worm" sandwich.  It's really only curled up sliced hot dogs, served on a bun with all of your favorite toppings.  Remember everyone loves a little mystery and unknowing.  This is a recipe for the whole gang, young or old, short or tall.  Fill your life with family fun!

                  –
This is what a completed sandwich on a Hot Dog bun looks like. It is really yummy!  You can serve them with baked sliced potatoes to simulate home made fries or serve with a bag of potato chips

  Url Link for April Fool's "Worm" Video Clip
pdf for Curly "Worm" Hot Dog Recipe
+++++++++++++++++++++++++++++++++++++++++++++++++++++++
Unbeetable Strawberry Spice Cake
This cake is full of surprises….it is April Fool's Day at its Best.  The addictive spice scent will drift through the house, filling everyone with anticipation of the soon-to-be-served dessert.  Only you will know that the butter was reduced, and that crushed beets add the moisture to the batter.  Only you will see the bright hot pink batter magically turn into a toasty brown spice cake.  Only you will know that those pink drizzles on the top are beet syrup.  Oh!  Go ahead and Smile. No one will ever guess your secret.  Have fun!

                        Url Link to Unbeetable Strawberry Spice Cake Video
pdf of Recipe of Unbeetable Strawberry Spice Cake
+++++++++++++++++++++++++++++++++++++++++++++++++++++++++++++
Easter Holiday Recipes
+++++++++++++++++++++++++++++++++++++++++++++++++++++++++++++
Naturally Colored Pink Egg Whites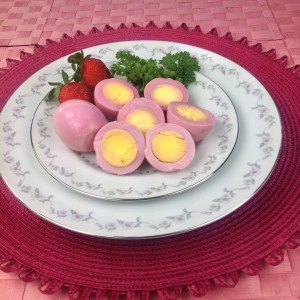 The Secret is out!  Naturally Colored Pink Egg Whites were a surprise as we experimented with various natural products to color our hard boiled eggs. What a surprise it was to find that beets/juice/tea produced not only light pink shells but also vivid pink colored egg whites inside. A double surprise is that they didn't taste like beets at all.  All you have are beautiful boiled eggs with pink egg whites and yellow yolks.  Use them for your vegetable tray or even make avocado filled deviled eggs. They are so cool!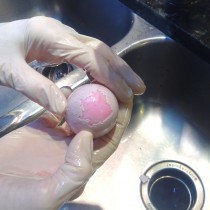 See the pink egg white as you remove the shell.

                        Url link to You Tube Video – Naturally Colored Pink Egg Whites
pdf for Naturally Colored Pink Egg White Recipe
++++++++++++++++++++++++++++++++++++++++++++++++++++++++++++++++
 Lithuanian Kugeli Potato Casserole
Rejoice!  Now this popular Lithuanian potato dish can be enjoyed by vegetarians too. The pound of bacon and large amounts of butter have disappeared and are replaced with healthier ingredients.  Caramelized onions flavor the dish, allowing everyone to enjoy this traditional favorite.  If someone wants to add bacon, lightly mix some cooked bits into half of the dish before baking.  Kugeli tastes like a fluffy potato pancake when the crust is crisp.  Enjoy a Lithuanian traditional recipe that can be served as a side dish or an appetizer.  Delicious with dollops of light sour cream or fresh chilled applesauce.

                          Url Link to Lithuanian Kugeli Potato Casserole
pdf of Lithuaninan Kugeli Potato Casserole Recipe
++++++++++++++++++++++++++++++++++++++++++++++++++++++++++++++++
Secret Surprise Polish Poppy Seed Cake
Enjoy the flavor of poppy seeds in this delicious cake, accented with the essence of fresh oranges.  It's a winning flavor combination.  The original Polish cake was usually baked in a tube pan, but this updated recipe uses an attractive Bundt pan. The taste will have you remembering the wholesome delicious pastries we all love.  Serve this cake garnished with mandarin or fresh orange segments.  Another delightful addition is to top it with apricot cake and pastry filling.  It will become one of your favorites.

      Url Link for Secret Surprise Polish Poppy Seed Cake
pdf link to Secret Surprise Polish Poppy Seed Cakes
++++++++++++++++++++++++++++++++++++++++++++++++++++++++++++++